Meet the Rooted Board of Directors
Joe Sensenbrenner

Board President
Former Mayor of Madison
Recognized by In Business magazine as "Visionary of the Year" in 2012, Joe Sensenbrenner is the former President of Sensenbrenner Associates (1989-2009). A former Mayor of the City of Madison, WI, Joe served three terms (1983-89), and led the pioneering efforts to adapt and expand cutting edge private sector practices across the wide range of municipal government services. He has published several articles on those efforts, including "Quality Comes to City Hall," Harvard Business Review (March-April 1991), "Quality in the Community: One City's Experience," Quality Progress (April 1991), and "Quality for Cities," Nation's Business (October 1991). Joe is a graduate of Williams College (B.A., cum laude) and the University of Pennsylvania (J.D.), and participated in two Total Quality Control Seminars with W. Edwards Deming at George Washington University.
Jim Bradley

Board Vice President
President
Home Savings Bank
Jim Bradley is a life-long resident of Madison, WI. Mr. Bradley received a BBA from the University of Wisconsin-Madison, where he studied real estate and finance. Upon graduation, Jim joined Home Savings Bank, was named President in 1985, and now serves as the bank's Chief Executive Officer. Celebrating its 125th anniversary in 2020, Home Savings Bank has a long-term commitment to being a positive influence in the community it serves, including being a positive influence on the strength and vitality of the local economy and the quality of the natural environment. In his community activities, Jim has primarily been involved in the areas of affordable housing, strengthening downtown Madison and the local economy, and environmental sustainability. He has served in leadership roles for many community organizations and currently serves on the boards of the Madison Community Foundation, the Evjue Foundation, Sustain Dane, and Rooted.
Brigid Elliott-Boger

Board Treasurer
Partner
Baker Tilly Virchow Krause
Brigid is a CPA and Partner with Baker Tilly Virchow Krause, LLP in Madison, WI. She has been with the firm since 1999, where she specializes in serving manufacturing and/or distribution companies and their owners with accounting, tax, and consulting services. With broad experience with tax compliance including planning, preparation, and review of corporate, partnership, and individual tax returns, Brigid offers expert assistance to clients with various business and personal planning projects including buy-sell transactions and estate and business transition planning. Brigid received her B.S. in Accounting from University of Wisconsin–Platteville and is a member of the Wisconsin Institute of Certified Public Accountants and the American Institute of Certified Public Accountants.
Deirdre Garton

Director
Attorney (retired)
While raising four children, Deirdre Wilson Garton attended law school and practiced law in Madison, WI, her home for the last 38 years. As a family law attorney, prosecutor and consultant to law enforcement agencies, Deirdre saw firsthand the impact of poverty on the lives of children and their families. She came to understand that providing services to those families to meet their potential was the most cost efficient and safest approach to community development. Deirdre has chaired the Board of the Dane County Mental Health Center, participated on the Federal Advisory Committee on Juvenile Justice, served on the Executive Board of the Coalition for Juvenile Justice, and chaired the Wisconsin Governor's Juvenile Justice Commission for eight years. She has also worked on court improvement projects via positions in state government, and her own company. In addition, Deirdre has worked on behalf of the Ten Chimneys Foundation, founded by her late husband, Joe Garton; chaired the Board of the Kanopy Dance Theater in Madison; and chaired the board of the Overture Center Foundation, which manages a six-venue performing arts center in Madison, WI.
Nicholas Hayes

Director
CTO and Co-Founder
Wellntel
Nicholas Hayes is a water and energy entrepreneur, building global businesses that tackle complex resource and population challenges. He is Co-Founder and CTO of Wellntel, a water technology business developing simple products to help homeowners and farmers care for their groundwater and achieve water sustainability. He also founded FiveTwelve Group, a leading global research/strategy consultancy known for its collaborative innovation methods used by F250 clients. Nick is an award-winning author who wrote Saving Sailing (Crickhollow Books), an IP 2010 Silver Medalist and a ForeWord 2009 Book-of-the-Year Finalist, which explores the value of intergenerational outdoor experiences in the development of the aware global citizen. Nick writes the "On the Wind" column for Sailing Magazine. He spends his free time working to improve neighborhoods, schools and communities as a director or past director at Rooted, Milwaukee Community Sailing Center, and YMCA Camping Services.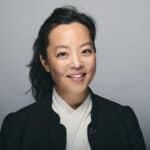 Francesca Hong

Director
Representative, 76th Assembly District Wisconsin State Legislature
Francesca Hong (she/her) is a mom, service industry worker, and community organizer. Elected in 2020, Hong serves as the first and only Asian American elected official in the Wisconsin State Legislature. She represents the 76th Assembly District in Madison, WI. Francesca has received numerous awards for her work, including the National Association of Asian American Professionals Inspire Leadership Award (2021), the Bon Appetit  Heads of the Table Award (2021), the Wisconsin Conservation Voters Conservation Honor Roll (2021-22), and the School Nutrition Association of Wisconsin Legislator of the Year (2022). Francesca is Co-Founder of several Madison and Dane County organizations, including the Culinary Ladies Collective, Cook It Forward, the Dane County Food Collective, and the Healthy School Meals for All Coalition. She also serves on the Asian American Pacific Island Coalition of Wisconsin Executive Committee, the Wisconsin Economic Development Corporation Board of Directors, and the Kennedy Heights Community Center Board.
Christopher kilgour

Director
Hal Mayer

Director
Former Vice President of Operations Oscar Mayer
Harold F. "Hal" Mayer was born in Madison, WI, and grew up in Evanston, IL. He received an undergraduate degree in Economics from Beloit College and an MBA in Marketing from Northwestern University's Kellogg School of Management. Hal spent his 30-year business career with Oscar Mayer & Company, which later became Oscar Mayer/Kraft Foods, retiring in 1996 as Vice President of Operations. His community activities have included United Way, where he chaired the annual fund drive and the Board of Directors; The Madison Museum of Contemporary Art; YMCA; Boys and Girls Club; Meriter Foundation; and The Madison Community Foundation, serving on and chairing its Board of Governors. Hal's other board service included The Madison Cultural Arts Support Trust (MCAST); Bank of Shorewood Hills; Community Banks; Valley Bank; M & I Bank; and BMO Harris Bank. Hal and his wife Christy have a son and a daughter, three granddaughters and one grandson, and live in Naples, FL and Madison. Favorite activities include traveling, golf, walking on the beach, listening to music, and reading.
Mary Ellyn Sensenbrenner

Director
Attorney (retired)
Mary Ellyn Sensenbrenner is a retired attorney, complementary health care provider, and civic activist in environmental, women's and arts issues. She has served on numerous non-profit boards, including the Edgewood College Board of Trustees and the Madison Museum of Contemporary Art's Board of Trustees. Mary Ellyn received her law degree from Notre Dame Law School.